Get your family's Olympic spirit pumping with a curling lesson! Stormcloud Brewery in Frankfort offers learn-to-curl lessons on select Saturdays in January and February. All ages are welcome, though you do need to call ahead and reserve a time. Private lessons are also available.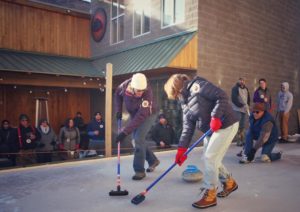 Curling is one of the world's oldest team sports. It originated in the 16th century in Scotland, where games were played during winter on frozen ponds and lochs. The earliest-known curling stones came from the Scottish regions of Stirling and Perth and date from 1511. Carry on the torch by learning this age-old sport — it will be an experience you and your family won't forget.
Stormcloud Brewery is a favorite of locals not only for their curling, but for their specialty flat bread pizzas, crafted brews and entertainment. Definitely worth a stop, whether you're up for curling or not. They are located two blocks from Lake Michigan in downtown Frankfort — about a 20 minute drive from Crystal Mountain.