We get the question a lot. What is fractional ownership? Well, for starters, we can tell you that fractional ownership is NOT the same as timeshares. The main difference between fractional ownership and a timeshare is that in a fractional ownership arrangement, you have a deeded interest in the property. If the property goes up in value, the fractional owner's share of the pie also becomes more valuable. With a timeshare, ownership is not distributed. The owner purchases only "time slots" at a property, and these weeks or months do not rise and fall in value with the value of the property. The title is still owned by the principal owner.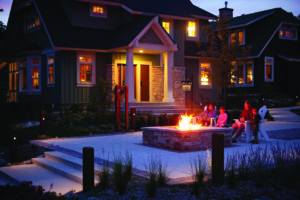 For someone looking to own a place 'up-north,' fractional ownership is an ownership format worth considering. At Crystal Mountain, The Cottages at Water's Edge, Kinlochen, the Bungalows, and the new Inn Residences are all offered as fractional ownership opportunities.
As we see it, the benefits of fractional ownership are:
Makes a high-end second home affordable. You get the benefits of owning an attractive up-north condo or cottage without putting up the cash to purchase the whole property outright.

Playing in the creek at the Cottages at Water's Edge

Someone else minds your second home. When you arrive, you simply unpack. All of the maintenance, snow removal, housekeeping, and repairsare done on your behalf so you can spend time doing what you come up north to do!
Complements your schedule. Many fractional owners like the idea of not paying for time they're not using. Further, you can vacation elsewhere and not feel guilty.
Potential for rental income. When not using your place yourself, renting it through Crystal is a great way to help offset expenses.
One fee. With fractionals, expenses such as utilities, maintenance, and future upgrades are bundled into your association dues, and shared with the other owners.
Pre-determined, rotating schedule. You know when your assigned weeks are several years out. Some families find this makes them more committed to getting away.
Great entry into owning at Crystal. Many use it as a springboard for whole ownership or retiring here.
Resale value. Any equity that accrues while you own it, subject to market conditions, will come back to you when you sell it down the road.
Explore the fractional ownership opportunities at Crystal Mountain through the team at Crystal Mountain Realty – the Crystal Mountain Specialists!